What is Assisted Living?
I wrote this article a few months ago to let people know about Assisted Living.  Yes, my grandparents moved into a community in Ogden but Heritage Village Assisted Living and Memory Care of Mesa provides the same level of care and service.  Both are managed by SAL Management Group.
About 2 years ago my grandparents Nina and Leslie Boswell were living at home and doing pretty well.  My grandpa was still driving and would make sure my grandma was dressed in clean clothes and helped her get in and out of the shower. My grandma was getting real forgetful and would ask the same questions all day long.  My grandpa had a lot of patience.  He would make toast and hot chocolate for breakfast and some canned soup and/or a sandwich of some sorts for dinner.  But most days they would drive up the street to Taco Bell and order a few items off the dollar menu.  The staff were very kind and got to know my grandparents and their routine.
However, one day my grandpa, who was the main caregiver was really sick and collapsed on the floor by the bed.  We think he was there for almost 24 hours.  Luckily my Dad went by and was alerted by the situation and called 911.  When asking my grandma, what happened to grandpa, she wasn't even aware anything happened to him nor knew where he was.  My grandpa had a severe UTI (urinary tract infection) and he almost died from it.  He was in the hospital for about 3-4 days and then went to Stongehenge Rehabilitation in South Ogden for a few weeks where they took really good care of him even though he was really stubborn and didn't think he needed to be there.  My grandma couldn't be alone so my mom, dad and family members made a schedule and everyone did as much as they could to make sure grandma was safe and taken care of.
While my grandpa was in rehab my family and I started talking about what we are going to do with them.  For the past 17 years I have been in the Assisted Living industry and my partners and I own/operate 15 communities in Utah.  We operate under SAL Management Group.  My siblings looked to me for answers regarding the care and situation.  I recommended Our House Assisted Living of Ogden.  Our House Assisted Living of Ogden opened in June of 2015 and my grandparents moved into Our House in July of 2015.  I am so glad we were open at the time.  The community has 43 private studio, one bedrooms, and two bedrooms with certified nursing assistants 24 hours a day to help my grandparents with their daily personal activities.  My grandpa was doing really well after being discharged from Stonehedge, however, my grandma started needing a lot more help.  The CNA's would help my grandma shower, comb her hair, make sure she had on clean, appropriate clothing, administer her medications and much more.  At first, my grandpa kept saying that they didn't need to be there and that he could take care of grandma at home but we kept encouraging him to just take it one day at a time and enjoy the 3 home cooked meals a day, activities, and with the push of a button someone would get him whatever he wanted.  For us as family members it was such a relief that we didn't have to worry about them being home alone and something really bad happening.  We were fortunate that things happened they way they did.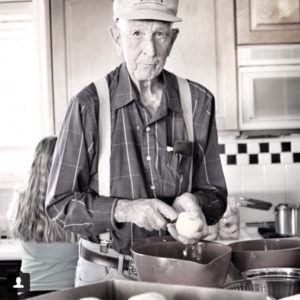 My grandpa was born in Mt. Emmons Utah in 1923.  He served in the Army during World War II for 3 years and was trained in wire and phone communications, he built his own house, he could fix anything, he was a teacher, an entrepreneur, father of 2 boys, married to my grandma for 74 years and now he had to move into a place where he felt he couldn't be independent.   This was frustrating to him he didn't want to live in a place with all these "old people."  I mean, he was only 92 years old?  However, after a few weeks he started to get to know a few of the other residents, but he really gravitated toward the staff and started teasing them like he did us throughout our lives.  He started to enjoy their company and seeing them everyday.
My grandma was born in Vernal Utah in 1925 and at the age of 17 married my grandpa.  My grandma raised 2 boys and us 5 grandchildren.  She was always at our big events supporting us in everything we did.  However, at this time in my grandma's life she wasn't doing very good.  For sometime she didn't know who we were until we told her.  We could tell that she knew we were special people but couldn't quite know who we were.  At one time, I remember by grandma telling me that she knew her mind was going and she was scared.  When I would cover over to the Assisted Living community to visit her I would grab her hands, knell before her and look straight into her eyes and say it was me, your favorite grandson.  She would smile and laugh and it was so good to see.  My grandma slowly stopped eating and would have a hard time getting out of bed.  The assisted living nurse suggested that we talk to a hospice company.  A hospice nurse and aid would come in just about everyday to give the extra care that my grandma needed.  Finally on a Sunday night in August my sister called and said that we better go see grandma.  It might be the last time.  So our family gathered in grandma's room to say our last good byes.  We knew it wasn't going to be long and we were crushed to see my grandpa go through this after 74 years of marriage.  She passed away a few hours later.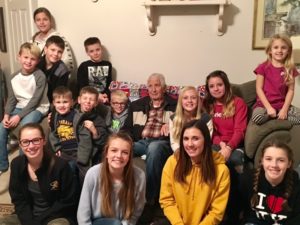 After my grandma passed away, we thought my grandpa was going to pack his things and head home.  When we asked him what he wanted to do he said that he wanted to stay at the assisted living home.  We were very grateful for this and we all thought this was the best.  We couldn't imagine our grandpa going home alone after his wife of 74 years old passed away.  What we he do?  He would sit alone in his house watching tv or worrying about things.  At Our House Assisted Living of Ogden he wouldn't be alone, have good food, fun activities to do if he wanted, friends, and knowing that he would be in a safe place if something were to happen to him.
With my grandpa being a World War II veteran the government has an Assisted Living benefit.  We applied through Utah Senior Planning.  We needed to gather my grandpa discharge papers, marriage certificate, financial information and Our House Assisted Living needed to provide the nurse assessment, service plan, and service agreement, along with a doctors assessment.  After a few months of waiting my grandpa now receives $1,794.00 a month to help pay for Assisted Living.  This is a great benefit and I would encourage all veteran's and spouses to apply.
Even though I am involved with the management of Our House Assisted Living of Ogden I am not there all the time and I have to trust the administrator and her staff to take care of the residents.  Myself and family have been impressed with the care and professionalism that Our House has shown my grandma and grandpa.  At SAL Management Group we have a saying that we take care of our residents as if they are our own parents/grandparents.  I know this to be true with my grandparents at Our House Assisted Living of Ogden.  Thank you to all the caregivers, cooks, managers, housekeepers, maintenance, and activities for making my grandparents lives better.
Thank you,
Nate Boswell
SAL Management Group
Director of Marketing and Development